Wilderness Guide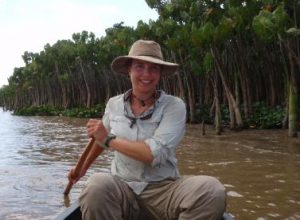 Amy Freeman is an experienced canoe, kayak, and dogsled guide. She is one of the foremost wilderness expeditioners and educators of this era. She and her husband, Dave, were named National Geographic Adventurers of the year 2014. Amy's genuine and welcoming smile is an immediate icebreaker. Here heart is very close to the Boundary Waters, and she is passionate about sharing this place with people today, as well as protecting the BWCA for future generations.
Closer to home, Amy has crossed the entire width of the million-acre BWCA by canoe, and has circumnavigated Lake Superior by sea kayak. In 2014, she and Dave paddled and sailed 2,000 miles from Ely, MN, to Washington, DC to celebrate the 50th anniversary of the Wilderness Act, and to raise awareness for protection of the BWCA.
Further afar, Amy's expeditions have taken her to remote points around the globe. In 2013, Amy and Dave completed an 11,000 mile expedition across North America by canoe, sea kayak, and dogsled. Before that, she participated in a Trans-Amazon expedition across South America
Amy is involved with the Wilderness Classroom Organization (WCO) as its Director of Development. The WCO is a non-profit organization that introduces students to some of the world's most wild places.
Originally from St. Paul, MN, Amy has a Bachelor's Degree from Macalester College in Studio Art and Psychology and a Master's Degree in Art Therapy from the School of the Art Institute of Chicago.
There is magic in the feel of a paddle and the movement of a canoe, a magic compounded of distance, adventure, solitude and peace. The way of a canoe is the way of the wilderness and of a freedom almost forgotten, the open door to waterways of ages past and a way of life with profound and abiding satisfaction.Sigurd Olson