June 6 - 10, 2018
Our professionally guided Intro to Wilderness Fishing trip is the perfect way for interested anglers to gain the skills and knowledge necessary to catch a variety of species for years to come. Your guide will cover everything from bait selection and casting techniques to discussions about lake structure, fish habitat and how to best clean and prepare your catch.
This trip is open to anglers of all ages and genders. No previous fishing experience is required. All trip participants will be outfitted with our complete outfitting package which includes everything from ultralight Kevlar canoes to comfy sleeping bags and pillows, and our delicious specialized trail menu. Participants will be supplied fishing rods, bait, and terminal tackle for fishing live bait at no additional cost. All you need to bring are your clothes, camera, some basic fishing tackle (if you'd prefer to use artificial bait) and a Minnesota fishing license.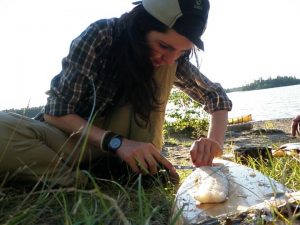 Over the course of four days and three nights on trail, expect to have one or two different campsites. Travel will be in non-motorized Wilderness. Participants will work together as a team and travel to a remote location. An average fitness level is appropriate for this trip.
Your guide will create a supportive learning environment and move at a relaxed pace to allow everyone the opportunity to not only fish, but also explore and relax. If you want to further your wilderness skills beyond fishing, your guide will be happy to help teach you all that you're curious about.
Sign up by yourself or bring along a friend. We look forward to heading out and hooking into a few lunkers with you!
Details:
Dates: June 6 – 10, 2018
Cost: $710/person.
Maximum group size is eight participants.  Minimum group size is four.

Group orientation and packing will be the afternoon of June 6. Early the next morning, a shuttle will drop you and your canoes and gear at a Boundary Waters entry point near Ely, MN. The group will get off the water mid-afternoon on June 10.

Click here for convenient online trip registration. When registering online, indicate your entry point is the Intro to Fishing Trip, and provide your name in the Trip Leader field.