Boundary Waters Canoe Area Wilderness & Quetico Park Information - Trip Planning, Canoe Routes, Maps, Entry Points
Introduction
The Boundary Waters Canoe Area Wilderness (BWCAW) spans over a million acres of glaciated bedrock, lush pine forests, and thousands of island-dotted pristine lakes just south of the Canadian border in Northeastern Minnesota. Extending nearly 150 miles along the International Boundary adjacent to Quetico Provincial Park, wilderness travelers find solitude, adventure, exceptional fishing, and a special connection with nature.
The hallmark of this region is a network of primarily small and medium size lakes and rivers connected by portage paths. Great glaciers left behind these lakes, and a rugged topography of exposed bedrock, granite cliffs, rocky shorelines and sand beaches.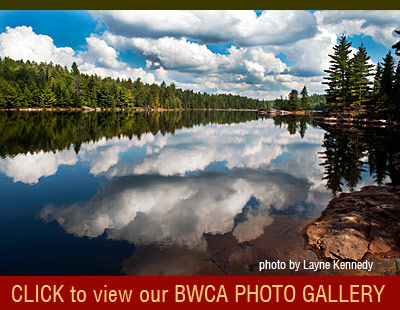 The 1,200 miles of BWCAW canoe routes are historic travel ways of native peoples. You will step back in time traveling the historic routes of the native Sioux and Chippewa people, as well as early explorers, French Voyageurs, trappers, and prospectors. The BWCAW appears mostly untouched by human hands - there are no roads, signs, docks, cabins, or lodges. And motors are prohibited in the interior of the BWCAW.
The US Forest Service manages the BWCAW, and visitors must obtain an entry permit and follow certain rules and regulations.
Entry Permits
A quota entry permit is required for overnight trips in the BWCAW from May 1 through September 30. The quota system regulates how many groups can begin a trip at each entry point each day. There are over 70 entry points to the BWCAW.
Advance entry permit reservations are strongly recommended because there are a limited number of quota entry permits for each entry point. All quota entry permits for summer 2018 become available on a first-come, first-served basis in late-January 2018.
Groups may only enter the BWCAW on the entry date and through the entry point specified on their entry permit. Permits may only be picked up the day before, or the day of, entry, by the trip leader or alternate trip leader designated on the reservation. One permit is valid for a group of up to nine people with up to four watercraft. Permits are not transferable.
Call us at 218-343-7951 for information on permit availability, and we will reserve your entry permit. You can also check permit availability and reserve entry permits at www.recreation.gov.
Non-quota self-issued permits are free and required year-round for day use BWCAW visitors, and for all overnight visitors entering the BWCAW between October 1 and April 30.
Permit Fees
BWCAW user fees per person per trip:
Adult: $16
Youth (0-17): $8
Interagency Senior/Access Card Holders: $8
Youth Access Card Holders: $4
A non-refundable USFS permit reservation fee of $10, and a permit acquisition fee of $10 is required for each permit we reserve.
Rules and Regulations
To preserve the wilderness, visitors to the BWCAW must follow certain regulations. CLICK HERE to learn the details.
Keep in mind that cans and glass bottles are not allowed in the BWCAW. Containers of fuel, insect repellent, medicines, personal toilet articles, and other items that are not foods or beverages are the only cans and bottles you may keep in their original containers.
Also, no more than 9 people and four watercraft are allowed to congregate together in the BWCAW at any time.
Planning Map and Routing
Use this map of the Boundary Waters (BWCAW) and Quetico Provincial Park to get an overview of the region and an appreciation for its vast interconnected waterways. When you're ready to plan your trip route, start by completing our online Routing Form. And please feel free to contact us. We're happy to help you select a route that fits your interests and abilities!
Other Resources
You will find many books about the Boundary Waters. "Paddle North" by Greg Breining (author) and Layne Kennedy (photographer) and "Exploring the Boundary Waters" by Daniel Pauly are two of our favorites. BWCA.com is also a helpful resource.
Weather
| | | | |
| --- | --- | --- | --- |
| Month | Average High (F) | Average Low (F) | Average Rainfall |
| May | 65 | 41 | 2.87 |
| June | 73 | 51 | 4.19 |
| July | 78 | 56 | 3.72 |
| August | 75 | 54 | 3.84 |
| September | 64 | 44 | 3.63 |
| October | 50 | 33 | 2.40 |