Wilderness Guide
Dave Freeman has guided canoe trips in the BWCA for many years, and is one of the foremost wilderness expeditioners and educators of this era. He and his wife, Amy, were named National Geographic Adventurers of the year 2014. Dave's heart is very close to the Boundary Waters. He is passionate about sharing this place with people today, as well as protecting the BWCA for future generations.
Ask Dave to tell you a story.  He has more than a few from his adventurous travels.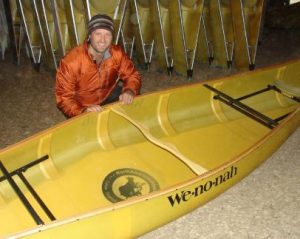 Closer to home, Dave has crossed the entire width of the million-acre BWCA by canoe as well as by dogsled. In 2014, he and Amy paddled and sailed 2,000 miles from Ely, MN, to Washington, DC to celebrate the 50th anniversary of the Wilderness Act, and to raise awareness for protection of the BWCA.
Further afar, Dave's expeditions have taken him to remote points around the globe. In 2014 (just before paddling to DC), he celebrated Pres. Teddy Roosevelt's epic descent of the River of Doubt in the Amazon by canoing the same river. In 2013, he and Amy completed an 11,000 mile expedition across North America by canoe, sea kayak, and dogsled. Before that, he complete a Trans-Amazon expedition across South America. He has also canoed the length of the Mississippi River, and circumnavigated Lake Superior by sea kayak.
Dave really wants to share the amazing Boundary Waters with you.  You'll learn a ton from this guy.
Dave is the Founder and Executive Director of the Wilderness Classroom Organization, a nonprofit that introduces thousands of students to the world's wild places with interactive online learning experiences connected with his expeditions.
Originally from Western Springs, IL, Dave graduated from the University of Colorado at Boulder with a Bachelor's Degree in Biology and Anthropology.
There is magic in the feel of a paddle and the movement of a canoe, a magic compounded of distance, adventure, solitude and peace. The way of a canoe is the way of the wilderness and of a freedom almost forgotten, the open door to waterways of ages past and a way of life with profound and abiding satisfaction.Sigurd Olson