A Guided All-Women BWCAW Canoe Trip
September 14 - 18, 2021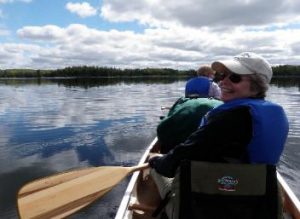 If you're a woman intrigued by the Boundary Waters Canoe Area Wilderness, this is your chance to experience the adventure. Whether this is your first time in a canoe or you'd like to improve your wilderness skills as an experienced paddler, the only requirement is that you want to have fun while adventuring with other bold ladies! This four-day fully outfitted and guided canoe trip is open to all women. You'll be geared up with all the best canoeing and camping equipment, including extra thick Therm-a-rest sleeping pads for a good night's sleep and comfy trail chairs for lounging at camp.
During four days on the water, expect days of both travel and base-camping. On an optional layover day, we will rest, relax, explore and, if you'd like, fish. Each day will bring new experiences and sights, that could include waterfalls, wildlife, towering old growth white pines, and beautiful Northwoods surroundings. Sign up by yourself, or bring along a friend, too. We look forward to heading out into these beautiful woods with you!
You will make new friends and meet interesting people. Our guests respect each other as individuals and work together and learn with one another as a team on this trip.
This unique trip is guided by Kate Ford. Kate is one of the most experienced (and fun!) female guides in the region. She has a background in guiding all-female groups and values the empowering nature of womens' trips. She's a great storyteller with wonderful wilderness experiences that she's happy to share. She's even known to bring her violin on trail for an unforgettable wilderness serenade.
Details:
Dates: September 14 – 18, 2021
Cost: $695/person.
Maximum group size is eight participants.  Minimum group size is four.

Group orientation and packing will be the afternoon of Sept. 14. Early the next morning, a shuttle will drop you and your canoes and gear at a Boundary Waters entry point near Ely, MN. The group will get off the water mid-afternoon on Sept. 18.  Affordable lodging may be available in our bunkhouse for $28 per person.

Click here for convenient online trip registration. When registering online, indicate your entry point is the Women in the Wilderness trip, and provide your name in the Trip Leader field. The deposit requirement for this trip is half of the trip price. Due to the extremely limited group size, the deposit is not refundable and not transferable to a different year. We suggest considering independent travel insurance due to the nonrefundable nature of this deposit. Final nonrefundable payment is due 30 days before the trip.